If you operate a website for your business, the security of the data that your customers provide you with should be of utmost importance. But what happens if your website doesn't have an SSL Certificate? This can lead to major security risks among other things. Fret not. We've got you covered in this blog.
Let's dive in.
What does SSL stand for?
Just in case you're not sure what SSL means, here you go. SSL stands for Secure Sockets Layer. An SSL is a standard technology used for keeping an Internet connection secure and safeguarding any sensitive data.
SSL is a sort of encryption that is solely used to authenticate the procedures that occur when visitors to your website disclose sensitive data in order to make transactions or subscribe to services.
Therefore, SSL is where data is encrypted and will protect your website from hackers trying to steal your private and sensitive information.
So, what is an SSL Certificate?
We already answered your question, 'What does SSL stand for?' And as mentioned above, SSL is the acronym for Secure Sockets Layer. Let's explore your next question, 'what is SSL for?' An SSL Certificate provides that added layer of security you need for your website. It is a digital certificate providing authentication for your website.
SSL certificates allow website owners to secure an encrypted connection website(s).
It also shows that you, as the provider, are the true owner of the website and you're a legitimate and operational business.
This authentication and security certificate also improves site performance as your site visitors can have peace of mind when then interacting with your site, understanding that any information they share is secure.
That said, you should note that getting an SSL Certificate will change your URL from starting with http:// to https:// instead. This is also another way of showing your site visitors that you are SSL compliant and their personal data is safe.
Types of SSL certificate uk Hosts provide
Let's check out the different types of SSL certificates.
DV SSL certificate
This is short for Domain Validated. It has the lowest level of security and is the easiest one out of all SSL certificates to acquire. Of course, this also means that it provides the least amount of security for your website and has very minimal requirements for issuance. Applying for this type of SSL certificate is simple and no information about your company is required.
EV SSL certificate
EV stands for Extended Validation. This type of SSL certificate has the highest level of security out of all the types of SSL certificates that exist.
To acquire an SSL certificate of this nature there is a review process that you must go through. This includes an examination of all your business documents, confirming your identity as the right and true applicant for the certificate and finally, investigating all your information using a third-party database to ensure everything submitted is true and accurate.
These types of certificates are the broad headings and depending on your SSL certificate provider they may have a different name. Be sure to read carefully the amount of security you are signing up for.
OV SSL certificate
This is the Abbreviation for Organizationally Validated SSL certificate, this type of certificate comes with a fair amount of security. It is certainly a good option for your business website and requires some validation from your organization to get started.
So, what happens if I do not use an SSL Certificate?
If you still don't understand the question at hand – what is SSL for? Let's expound. The importance of having an SSL certificate for your website by now, no worries, we're here to give you as many reasons as possible.
Are there repercussions for not using an SSL certificate? Sure there are. Let's look at a few.
1. Major browsers distrust your website (Rank & Reputation)
Since 2014, Google, one of the most popular and extensively used search engines in the world, has included SSL certificates as a ranking criterion. This means that if you don't have one, your website will be overlooked when it comes to high-ranking searches.
Additionally, since 2017, Google labels all sites collecting personal and sensitive data without an SSL certificate as 'Not Secure'. You can see this label displayed in the address bar or your search engine (Chrome for example).
If your SSL certificate happens to expire and you haven't renewed it, they will do the same to you in this case. And since 2018, they've gone as far as marking all sites, whether they collect sensitive data or not, as 'Not Secure' if they are without SSL certificates. These types of unsecured websites are easy to spot as they are labelled in red in the address bar. Once you visit some of these sites without an SSL certificate you'll receive a warning pop-up.
2. Non-compliance issues
Aside from being flagged by big search engines like Google, there's also the issue of run-ins with other key regulatory bodies. These organizations have also made SSL certificates mandatory for websites that handle sensitive data, such as a user's credit card information.
An example is the Payment Card Industry Security Standards Council widely known by the acronym PCI SSC. This entity manages data security standards (PCI DDS) by providing airtight security for credit card transaction users. It ensures that the collection, storage, processing and transmission of credit card details of online shoppers are done safely. You must comply with the standards of PCI DDS if your website conducts credit card transactions.
3. Data leaks
As mentioned above an SSL certificate provides an added layer of security to your website and your customers. That said, a big concern of many online shoppers is their personal data getting into the very wrong hands.
Although there has been an increase in cyber awareness among online buyers, many people still have little understanding of how to defend themselves against any type of cyberattack. However, search engines issue warnings when a site is not safe to protect users.
Here's a list of 2021 data breaches and cyber attacks.
4. Phishing attacks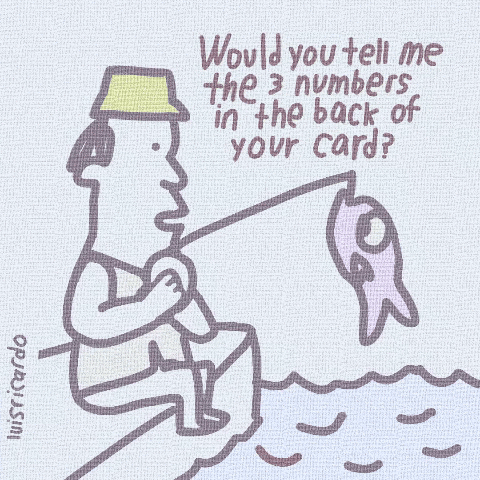 Phishing is the deceptive technique of sending emails that appear to come from trustworthy companies to get people to give personal information like passwords and credit card numbers.
When you don't use an SSL certificate on your website, it is left open to fall victim to phishing attacks because your users can't easily identify whether an impostor's phishing website is real or fake. Having an SSL certificate is a stamp of approval to show that the website is legitimate. You can look how out for the HTTPS or padlock and you'll look for a tick on Instagram to ensure the page belongs to who it says it does.
5. Damage to the reputation of your business
If you have a business website you have a brand to protect. You convey a story through your behaviours and the content you produce as a brand. You can lose customers and damage your company's reputation if your site visitors realize that your website cannot be trusted due to non-compliance with safety rules that require having an up-to-date SSL certificate. The ripple effects of this can be very damaging in a very tangible way. A clear example is the loss of revenue. Also, keep in mind that it isn't always easy to come back from a ruined reputation.
Still not convinced you need an SSL certificate?
If for whatever reason, you're still not convinced that you need an SSL certificate for your website and the question of why you need one is still lingering, then let's reiterate some of our major points more convincingly.
With an SSL certificate you get:
1. Higher Site Ranking
Without an SSL certificate, your site ranking can be negatively affected. If this happens, it will be almost impossible for your customers to reach your website especially when many users do not go beyond page one on search engines.
2. Your website can be trusted
Without an SSL, you will not have the trust of major browsers for your website. Major search engines such as Google punish your website by, as we mentioned before, decreasing your search engine ranking.
3. Your site labelled secure
Without an SSL certificate, your website will be labelled as "Not Secure" in your address bar and will be displayed in red. A warning page will also appear before anyone can enter your website, alerting them that your website may not be safe to use.
4. You benefit from compliance with PCI DDS
Remember the PCI DDS? Great! If you collect anyone's credit card information without possessing an SSL certificate, you will be considered non-compliant and will likely face penalties and other heavy fines. This can also lead to you be labelled as not compliant by other industry regulations as well.
5. You get an extra layer of security from cybercriminals
Without an SSL certificate, you're creating a field day waiting to happen for cybercriminals. With no SSL certificate, criminals can attack your website with ease and steal the personal information of your customers hence leading to a lack of trust and a lowered return on investment/ ROI.
VPS What is it?
VPS, what is it and why is it a part of this article? Well, VPS stands for Virtual Private Server and if that is the hosting package you use for your website, you too need an SSL certificate. This is a type of server housing multiple websites that have their own RAM and bandwidth. This software borrows resources from other websites that are also on the server as long as they aren't using all the data that is allocated to them.
VPS Hosting is usually best for small business websites in need of resource limits that aren't considered exorbitant.
With VPS Hosting users have flexibility in handling traffic to their website because it won't slow down or stop completely. It's also important to note that this type of hosting service is absolutely affordable.
Acquiring an SSL certificate for your website and pairing it with your VPS hosting is a simple process with Hosting.uk. As a user, you'll receive guaranteed cutting edge performance every time with your choice of RAM and server environment.
Final Thoughts
We hope that by now you know the answers to what SSL is and what an SSL certificate is and its benefits. When it comes to maintaining your business website, especially when it collects sensitive data from your customers/site visitors, having an SSL certificate ensures that you and your clients are protected. Sign-up for your SSL certificate to get top-notch encryption for your website today.